Sophie, Prince Edward's Wife
I'm not a huge hat wearer, but I do love watching the royals rock some funky hats. I admire how brave these women are. Its fashionable and a tradition to wear those types of hats for formal events such as polo games, the Royal Ascot, dinner parties and of course weddings. There was a sea of hats at Westminster Abbey this morning as expected, no one would be caught dead without one. This time around they were a bit more conservative, when it came to colors, but still very bold.
Camilla
A lot of people dislike these hats and you know there will be a lot of "royal bashing" in the coming days, probably by "The Fashion Police" and other fashion "authorities" (self proclaimed or legitimate). Lots of people fail to see the art in these pieces. I can't say that I would be brave enough to wear those, but I they are something to be inspired by. The shapes, colors and materials used make these pieces a focal point and I admire the craft put into them by their designers. So much creativity goes into a single piece.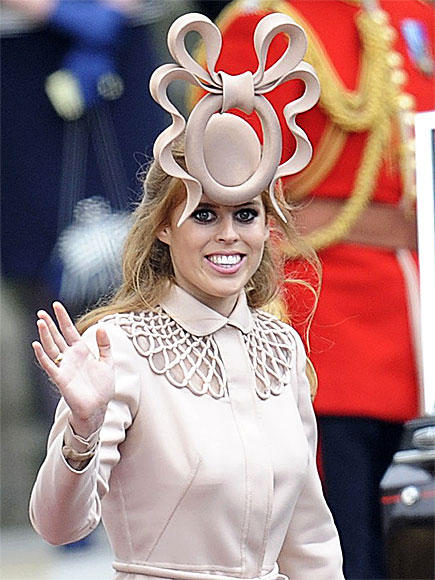 Beatrice
There are many hat designers that the Brits go to for these events, but possibly the most famous is Philip Treacy. Treacy has designed hats for fashion houses and designers such as Chanel, Givenchy, Valentino, Ralph Lauren, Donna Karen and, of course, Alexander McQueen. He also designed hats for movies such as Harry Potter and he also designed Sarah Jessica Parker's hat for the premier of Sex and the City. If you saw last season of Project Runway, you might remember the hat challenge where the designers had to pick a hat and design an outfit that went with it. The hats were Philip Treacy's creations, they were extremely bold and interesting.
Sarah Jessica Parker at the Premier of
Sex and The City